Lindsey and John Barron - Buckhorn, Ontario
Adrian Johnson is a wonderful realtor who really made the time and effort to understand our vision. Our recent purchase was a big deal, moving from Toronto to Buckhorn, and Adrian made us feel comfortable and confident in our decisions. He was patient and showed us several properties, never pressuring, and always honest in his comments. He's very responsive, organized, and has excellent knowledge of the area. Overall, his down to earth personality made him just great to have on our side. We would definitely recommend Adrian to family and friends!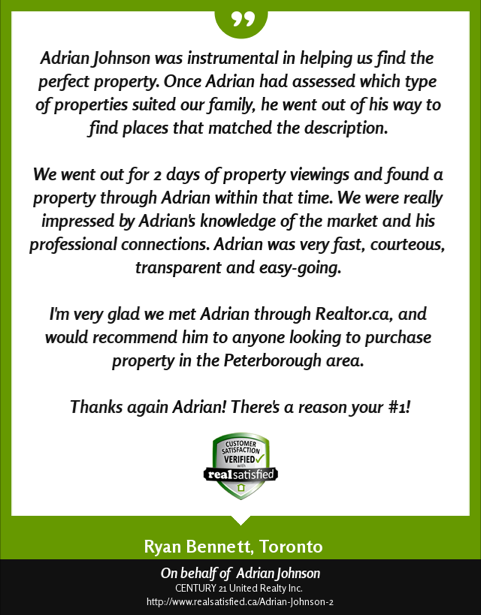 Ryan Bennett, Toronto
Adrian Johnson was instrumental in helping us find the perfect property. Once Adrian had assessed which type of properties suited our family, he went out of his way to find places that matched the description. We went out for 2 days of property viewings and found a property through Adrian within that time. We were really impressed by Adrian's knowledge of the market and his professional connections. Adrian was very fast, courteous, transparent and easy-going. I'm very glad we met Adrian through Realtor.ca, and would recommend him to anyone looking to purchase property in the Peterborough area. Thanks again Adrian! There's a reason your #1!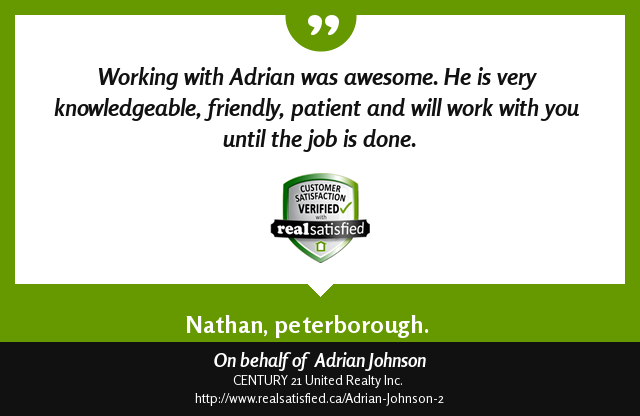 Nathan, Peterborough.
Working with Adrian was awesome. He is very knowledgeable, friendly, patient and will work with you until the job is done.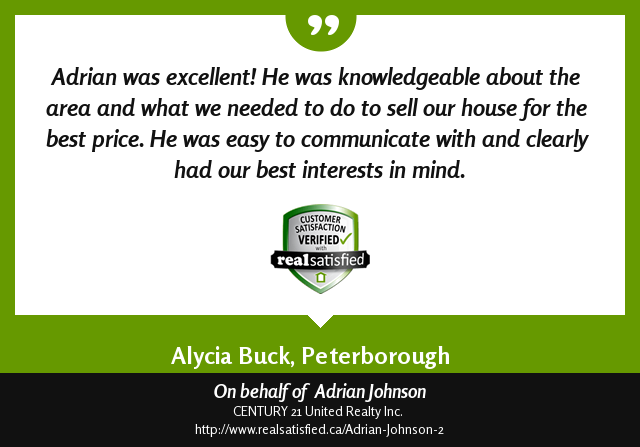 Alycia Buck, Peterborough
Adrian was excellent! He was knowledgeable about the area and what we needed to do to sell our house for the best price. He was easy to communicate with and clearly had our best interests in mind.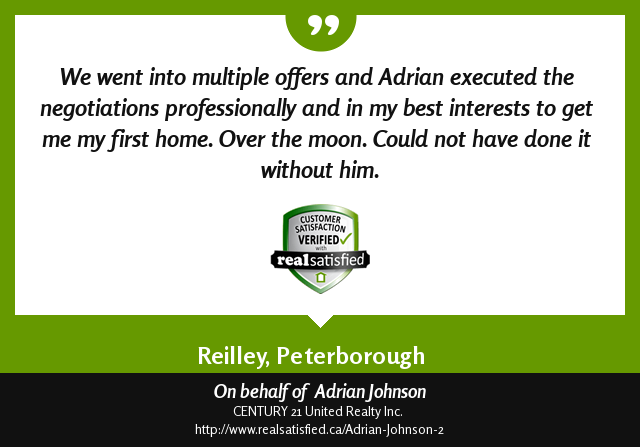 Reilley, Peterborough
We went into multiple offers and Adrian executed the negotiations professionally and in my best interests to get me my first home. Over the moon. Could not have done it without him.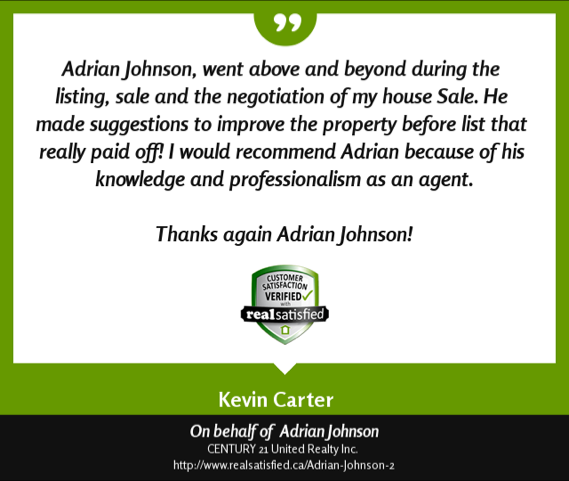 Kevin Carter
Adrian Johnson, went above and beyond during the listing, sale and the negotiation of my house Sale. He made suggestions to improve the property before list that really paid off! I would recommend Adrian because of his knowledge and professionalism as an agent. Thanks again Adrian Johnson!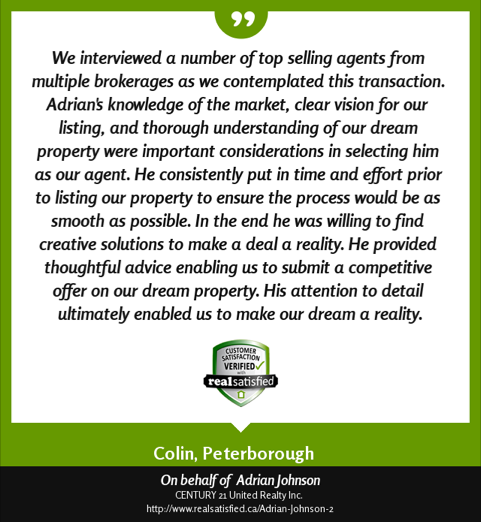 Colin, Peterborough
We interviewed a number of top selling agents from multiple brokerages as we contemplated this transaction. Adrian's knowledge of the market, clear vision for our listing, and thorough understanding of our dream property were important considerations in selecting him as our agent. He consistently put in time and effort prior to listing our property to ensure the process would be as smooth as possible. In the end he was willing to find creative solutions to make a deal a reality. He provided thoughtful advice enabling us to submit a competitive offer on our dream property. His attention to detail ultimately enabled us to make our dream a reality.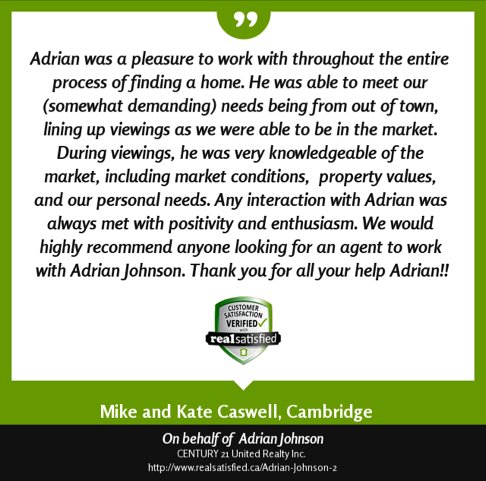 Mike and Kate Caswell, Cambridge
Adrian was a pleasure to work with throughout the entire process of finding a home. He was able to meet our (somewhat demanding) needs being from out of town, lining up viewings as we were able to be in the market. During viewings, he was very knowledgeable of the market, including market conditions, property values, and our personal needs. Any interaction with Adrian was always met with positivity and enthusiasm. We would highly recommend anyone looking for an agent to work with Adrian Johnson. Thank you for all your help Adrian!!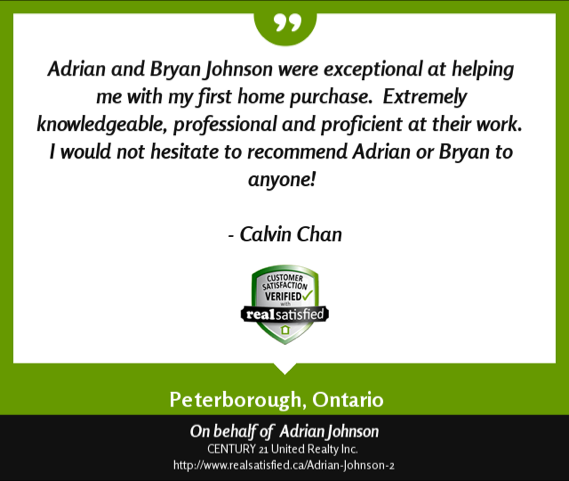 Calvin Chan, Peterborough, Ontario
Adrian and Bryan Johnson were exceptional at helping me with my first home purchase. Extremely knowledgeable, professional and proficient at their work. I would not hesitate to recommend Adrian or Bryan to anyone!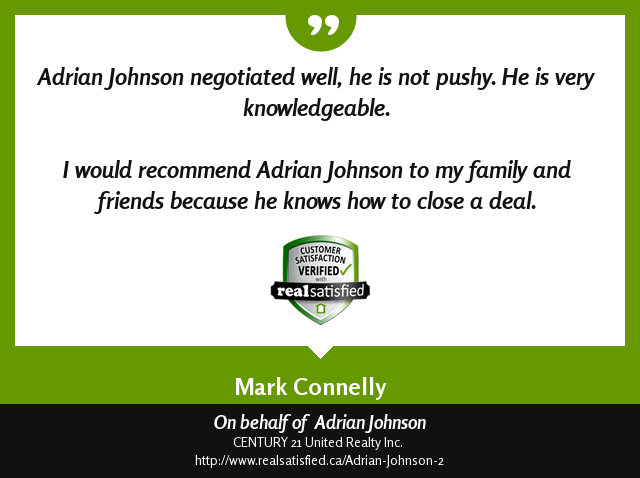 Mark Connelly
Adrian Johnson negotiated well, he is not pushy. He is very knowledgeable. I would recommend Adrian Johnson to my family and friends because he knows how to close a deal.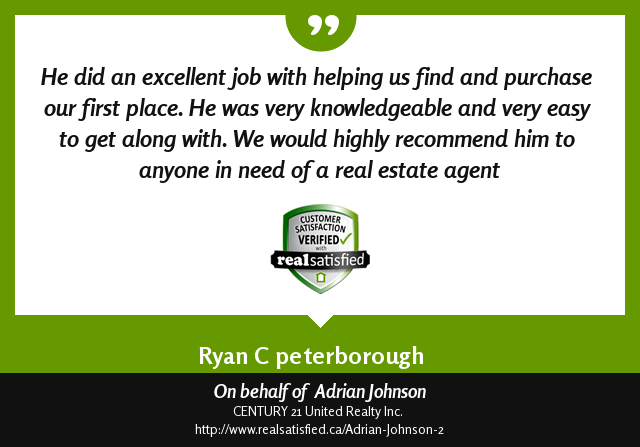 Ryan C, Peterborough
He did an excellent job with helping us find and purchase our first place. He was very knowledgeable and very easy to get along with. We would highly recommend him to anyone in need of a real estate agent.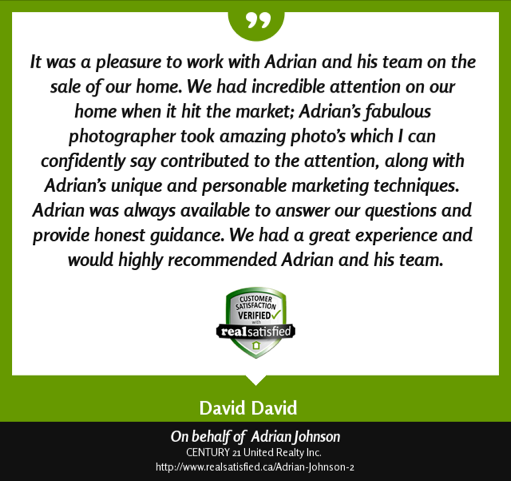 David David
It was a pleasure to work with Adrian and his team on the sale of our home. We had incredible attention on our home when it hit the market; Adrian's fabulous photographer took amazing photo's which I can confidently say contributed to the attention, along with Adrian's unique and personable marketing techniques. Adrian was always available to answer our questions and provide honest guidance. We had a great experience and would highly recommended Adrian and his team.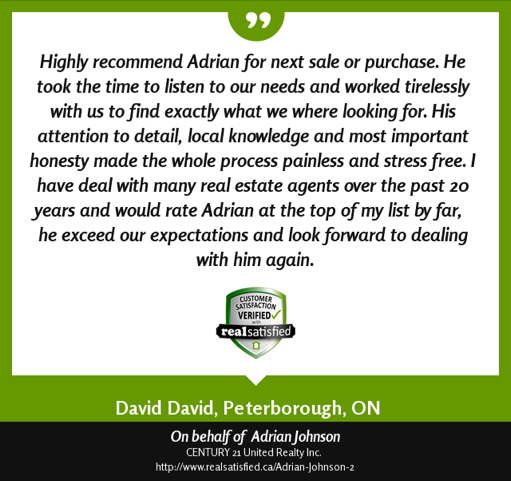 David David, Peterborough, ON
Highly recommend Adrian for next sale or purchase. He took the time to listen to our needs and worked tirelessly with us to find exactly what we where looking for. His attention to detail, local knowledge and most important honesty made the whole process painless and stress free. I have deal with many real estate agents over the past 20 years and would rate Adrian at the top of my list by far, he exceed our expectations and look forward to dealing with him again.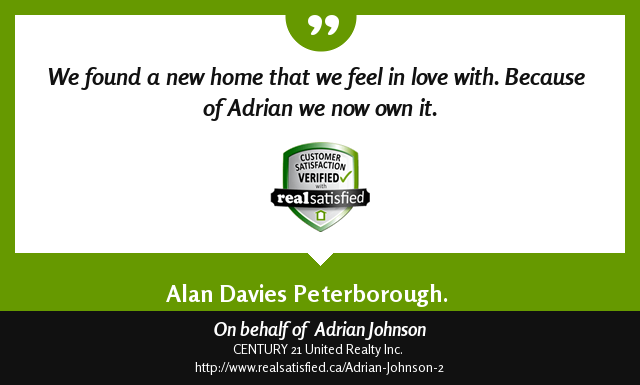 Alan Davies Peterborough.
We found a new home that we feel in love with. Because of Adrian we now own it.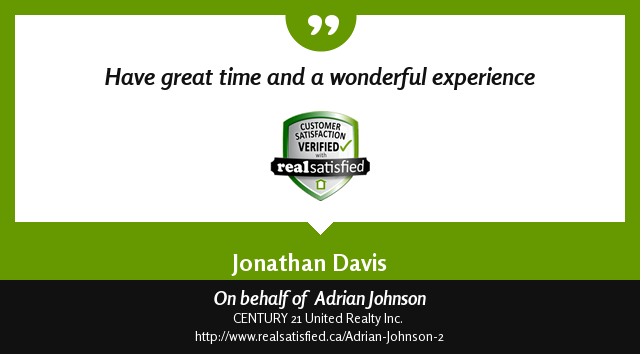 Jonathan Davis
Have great time and a wonderful experience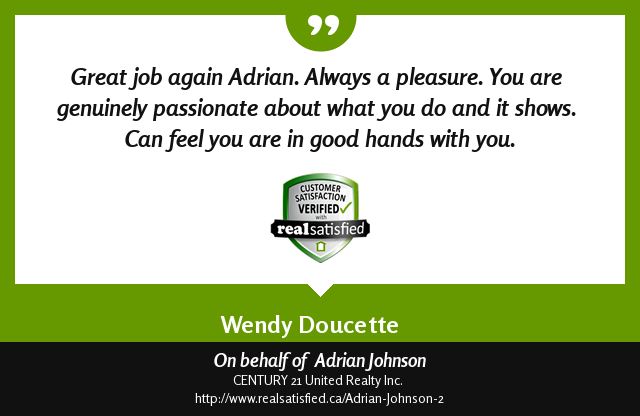 Wendy Doucette
Great job again Adrian. Always a pleasure. You are genuinely passionate about what you do and it shows. Can feel you are in good hands with you.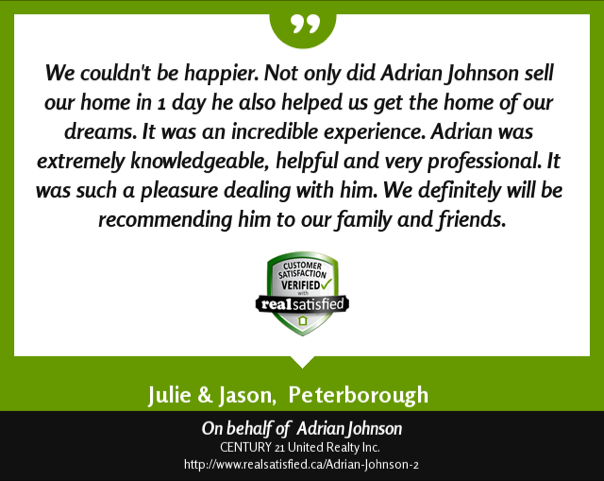 Julie & Jason, Peterborough
We couldn't be happier. Not only did Adrian Johnson sell our home in 1 day he also helped us get the home of our dreams. It was an incredible experience. Adrian was extremely knowledgeable, helpful and very professional. It was such a pleasure dealing with him. We definitely will be recommending him to our family and friends.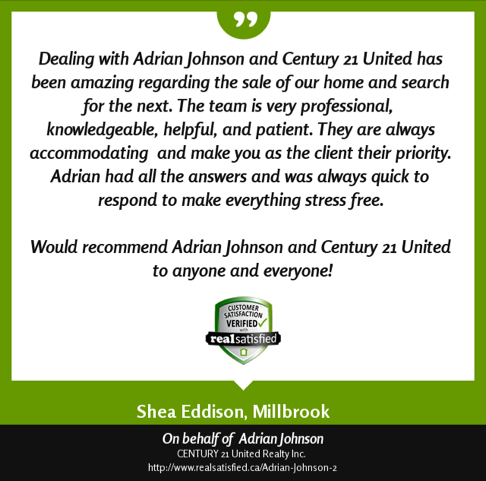 Shea Eddison, Millbrook
Dealing with Adrian Johnson and Century 21 United has been amazing regarding the sale of our home and search for the next. The team is very professional, knowledgeable, helpful, and patient. They are always accommodating and make you as the client their priority. Adrian had all the answers and was always quick to respond to make everything stress free. Would recommend Adrian Johnson and Century 21 United to anyone and everyone!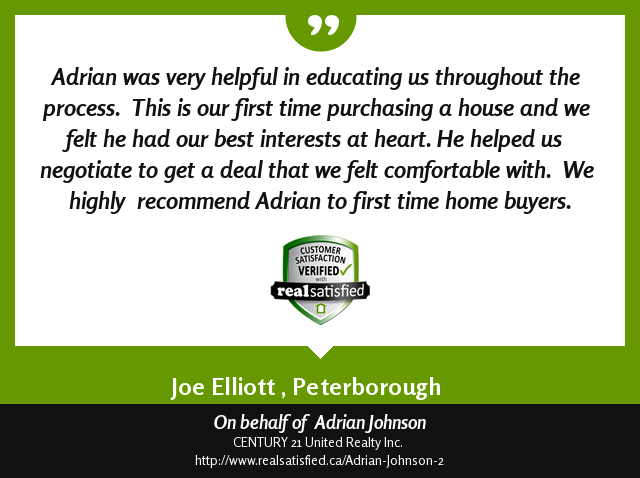 Joe Elliott , Peterborough
Adrian was very helpful in educating us throughout the process. This is our first time purchasing a house and we felt he had our best interests at heart. He helped us negotiate to get a deal that we felt comfortable with. We highly recommend Adrian to first time home buyers.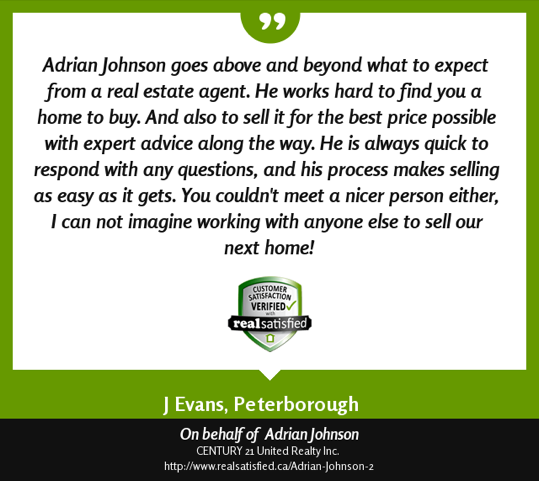 J Evans, Peterborough
Adrian Johnson goes above and beyond what to expect from a real estate agent. He works hard to find you a home to buy. And also to sell it for the best price possible with expert advice along the way. He is always quick to respond with any questions, and his process makes selling as easy as it gets. You couldn't meet a nicer person either, I can not imagine working with anyone else to sell our next home!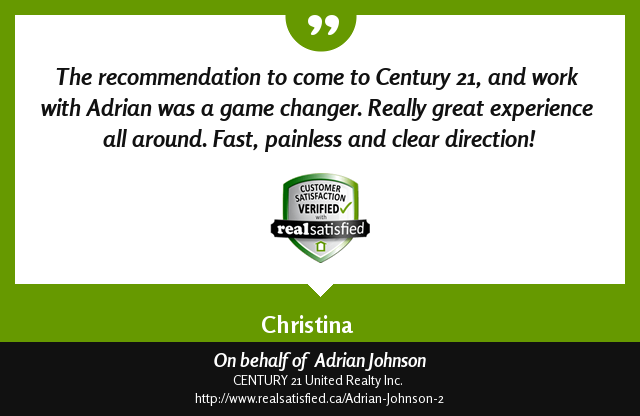 Christina
The recommendation to come to Century 21, and work with Adrian was a game changer. Really great experience all around. Fast, painless and clear direction!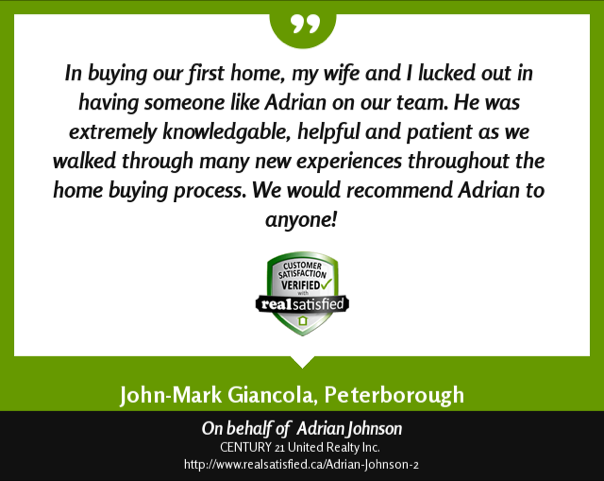 John-Mark Giancola, Peterborough
In buying our first home, my wife and I lucked out in having someone like Adrian on our team. He was extremely knowledgable, helpful and patient as we walked through many new experiences throughout the home buying process. We would recommend Adrian to anyone!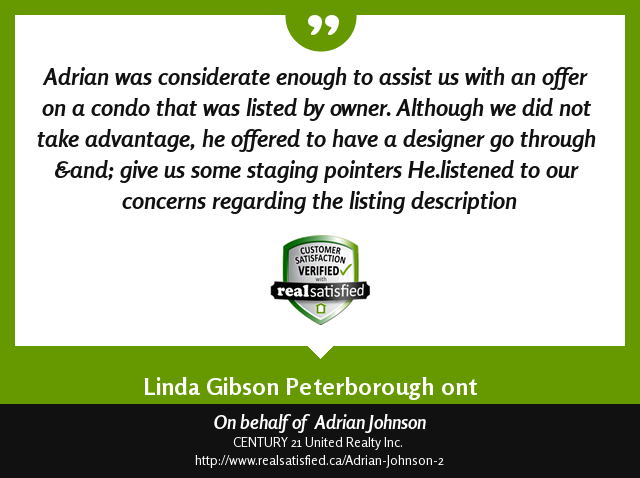 Linda Gibson Peterborough ont
Adrian was considerate enough to assist us with an offer on a condo that was listed by owner. Although we did not take advantage, he offered to have a designer go through & give us some staging pointers. He listened to our concerns regarding the listing description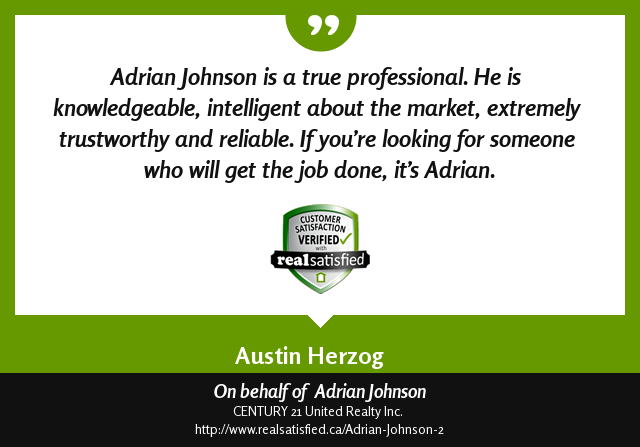 Austin Herzog
Adrian Johnson is a true professional. He is knowledgeable, intelligent about the market, extremely trustworthy and reliable. If you're looking for someone who will get the job done, it's Adrian.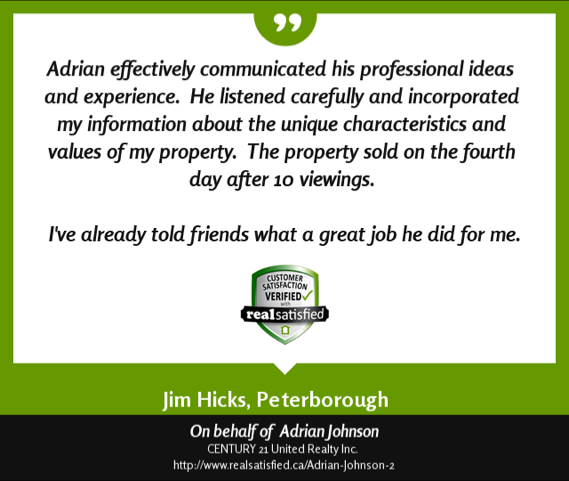 Jim Hicks, Peterborough
Adrian effectively communicated his professional ideas and experience. He listened carefully and incorporated my information about the unique characteristics and values of my property. The property sold on the fourth day after 10 viewings. I've already told friends what a great job he did for me.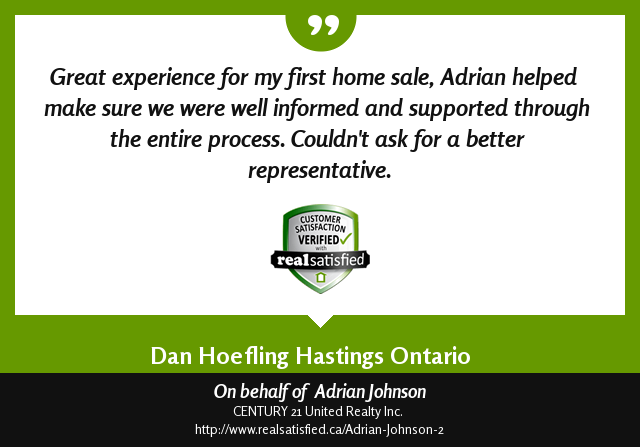 Dan Hoefling Hastings Ontario
Great experience for my first home sale, Adrian helped make sure we were well informed and supported
through the entire process. Couldn't ask for a better representative.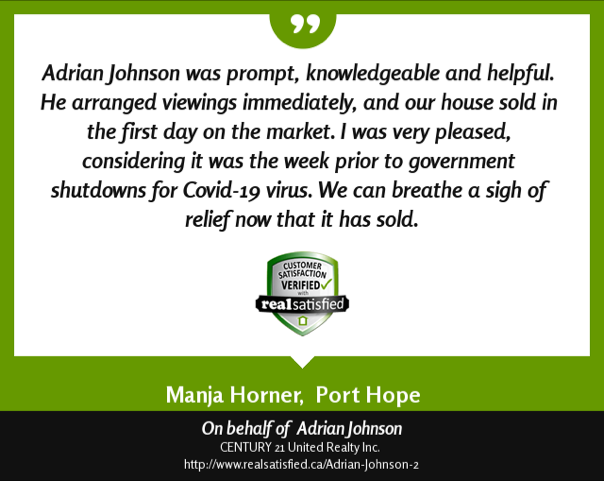 Manja Horner, Port Hope
Adrian Johnson was prompt, knowledgeable and helpful. He arranged viewings immediately, and our house
sold in the first day on the market. I was very pleased, considering it was the week prior to government shutdowns for Covid-19 virus. We can breathe a sigh of relief now that it has sold.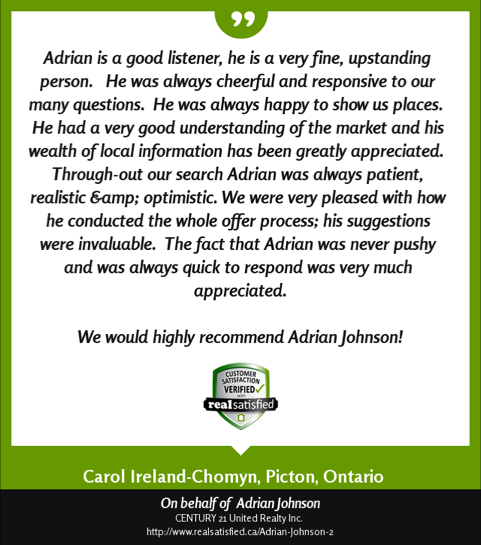 Carol Ireland-Chomyn, Picton, Ontario
Adrian is a good listener, he is a very fine, upstanding person. He was always cheerful and responsive to our many questions. He was always happy to show us places. He had a very good understanding of the market and his wealth of local information has been greatly appreciated. Through-out our search Adrian was always patient, realistic & optimistic. We were very pleased with how he conducted the whole offer process; his suggestions were invaluable. The fact that Adrian was never pushy and was always quick to respond was very much appreciated. We would highly recommend Adrian Johnson!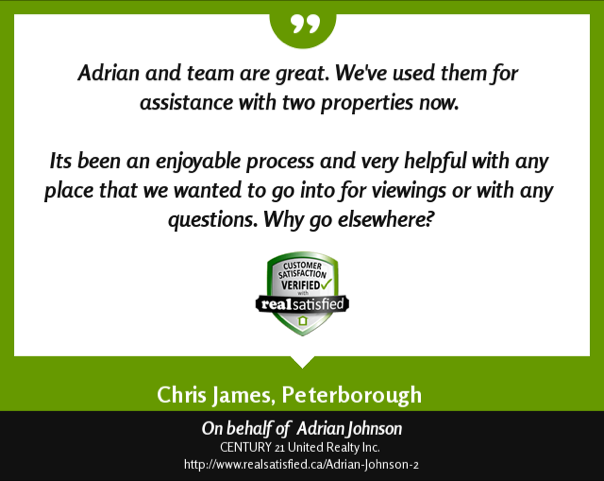 Chris James, Peterborough
Adrian and team are great. We've used them for assistance with two properties now. Its been an enjoyable process and very helpful with any place that we wanted to go into for viewings or with any questions. Why go elsewhere?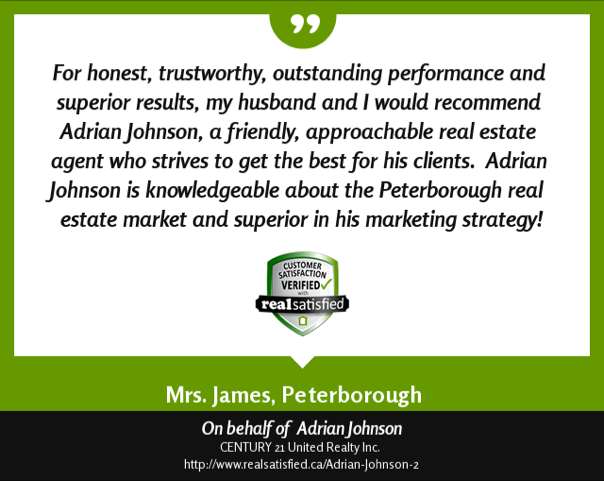 Mrs. James, Peterborough
For honest, trustworthy, outstanding performance and superior results, my husband and I would recommend Adrian Johnson, a friendly, approachable real estate agent who strives to get the best for his clients. Adrian Johnson is knowledgeable about the Peterborough real estate market and superior in his marketing strategy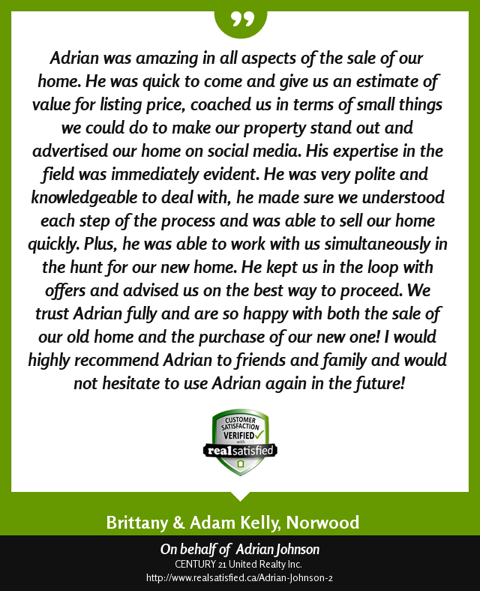 Brittany & Adam Kelly, Norwood
Adrian was amazing in all aspects of the sale of our home. He was quick to come and give us an estimate of value for listing price, coached us in terms of small things we could do to make our property stand out and advertised our home on social media. His expertise in the field was immediately evident. He was very polite and knowledgeable to deal with, he made sure we understood each step of the process and was able to sell our home quickly. Plus, he was able to work with us simultaneously in the hunt for our new home. He kept us in the loop with offers and advised us on the best way to proceed. We trust Adrian fully and are so happy with both the sale of our old home and the purchase of our new one! I would highly recommend Adrian to friends and family and would not hesitate to use Adrian again in the future!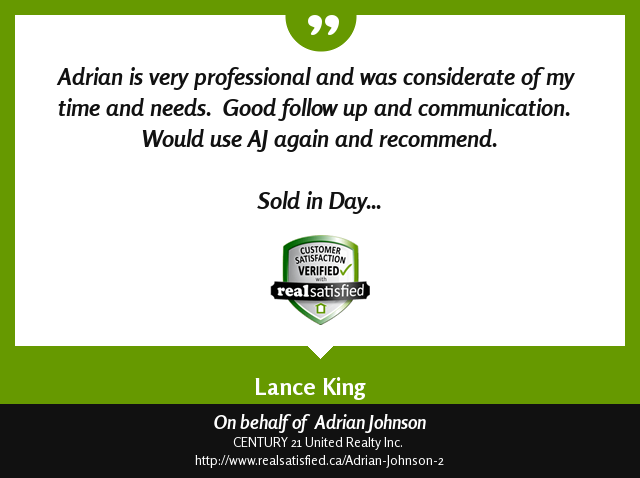 Lance King
Adrian is very professional and was considerate of my time and needs. Good follow up and communication. Would use AJ again and recommend. Sold in Day...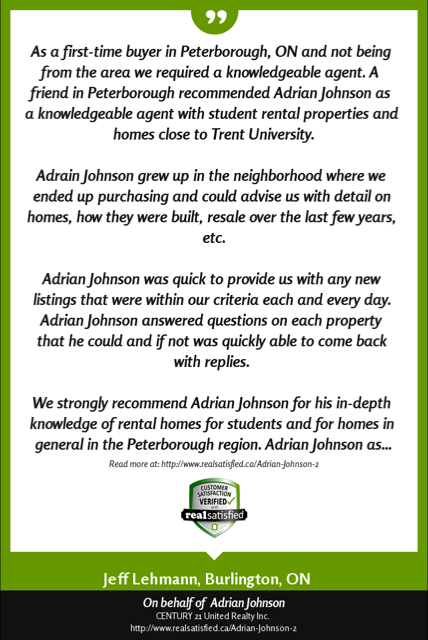 Jeff Lehmann, Burlington, ON
As a first-time buyer in Peterborough, ON and not being from the area we required a knowledgeable agent. A friend in Peterborough recommended Adrian Johnson as a knowledgeable agent with student rental properties and homes close to Trent University.
Adrain Johnson grew up in the neighborhood where we ended up purchasing and could advise us with detail on homes, how they were built, resale over the last few years, etc. Adrian Johnson was quick to provide us with any new listings that were within our criteria each and every day. Adrian Johnson answered questions on each property that he could and if not was quickly able to come back with replies. We strongly recommend Adrian Johnson for his in-depth knowledge of rental homes for students and for homes in general in the Peterborough region. Adrian Johnson as well provides quick responses and professional communication.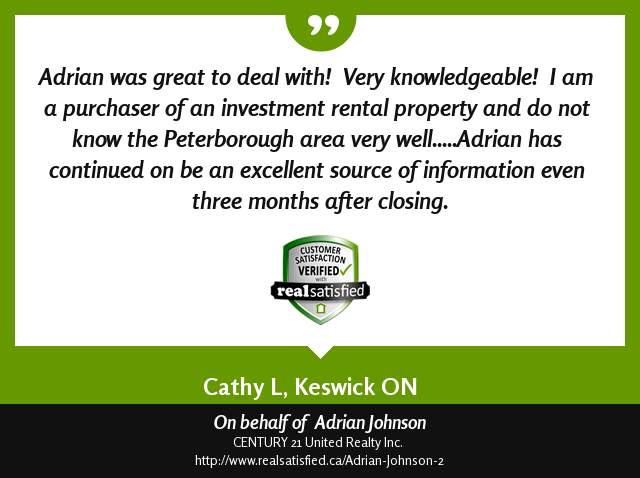 Cathy L, Keswick ON
Adrian was great to deal with! Very knowledgeable! I am a purchaser of an investment rental property and do not know the Peterborough area very well.....Adrian has continued on be an excellent source of information even three months after closing.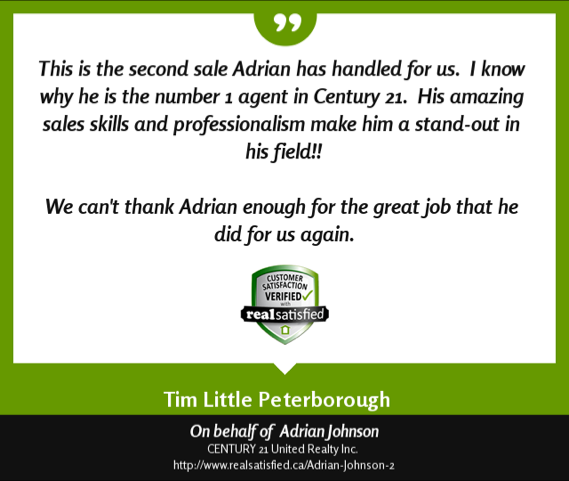 Tim Little Peterborough
This is the second sale Adrian has handled for us. I know why he is the number 1 agent in Century 21. His amazing sales skills and professionalism make him a stand-out in his field!! We can't thank Adrian enough for the great job that he did for us again.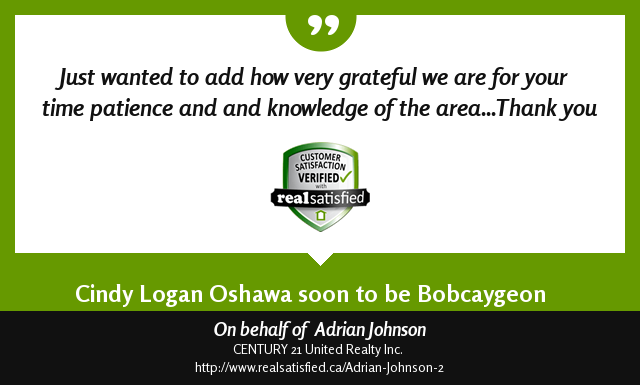 Cindy Logan Oshawa soon to be Bobcaygeon
Just wanted to add how very grateful we are for your time patience and and knowledge of the area...Thank you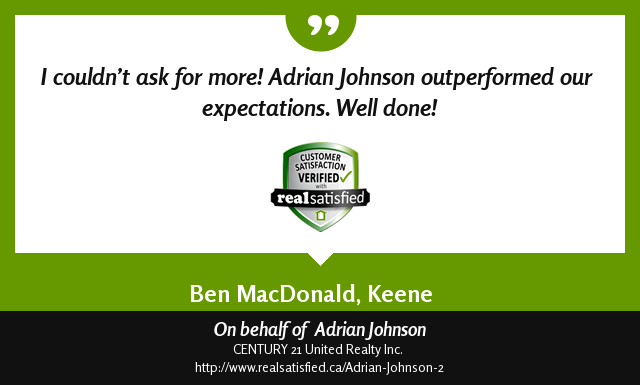 Ben MacDonald, Keene
I couldn't ask for more! Adrian Johnson outperformed our expectations. Well done!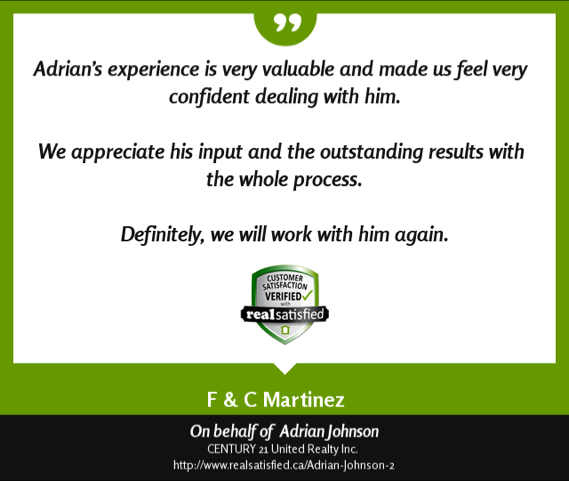 F & C Martinez
Adrian's experience is very valuable and made us feel very confident dealing with him.
We appreciate his input and the outstanding results with the whole process. Definitely, we will work with him again.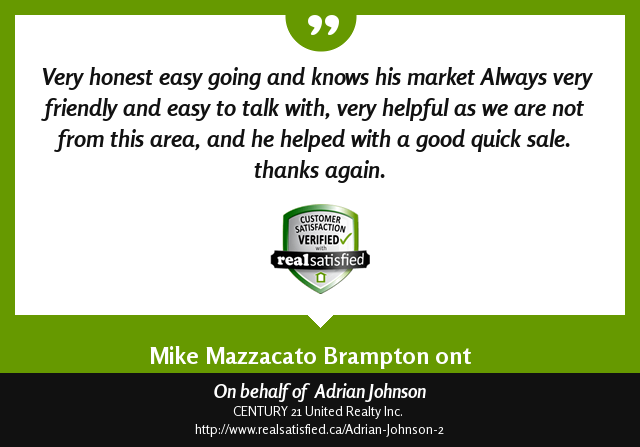 Mike Mazzacato Brampton ont
Very honest easy going and knows his market Always very friendly and easy to talk with, very helpful as we are not from this area, and he helped with a good quick sale. thanks again.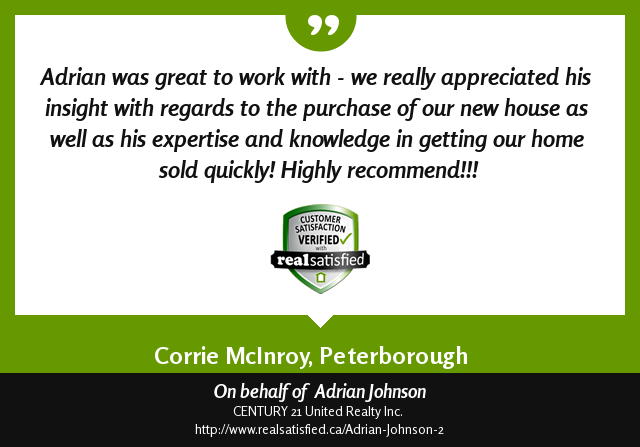 Corrie McInroy, Peterborough
Adrian was great to work with - we really appreciated his insight with regards to the purchase of our new house as well as his expertise and knowledge in getting our home sold quickly! Highly recommend!!!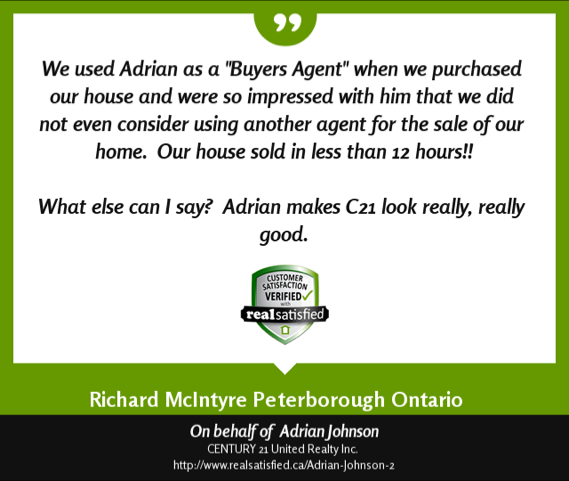 Richard McIntyre Peterborough Ontario
We used Adrian as a "Buyers Agent" when we purchased our house and were so impressed with him that we did not even consider using another agent for the sale of our home. Our house sold in less than 12 hours!! What else can I say? Adrian makes C21 look really, really good.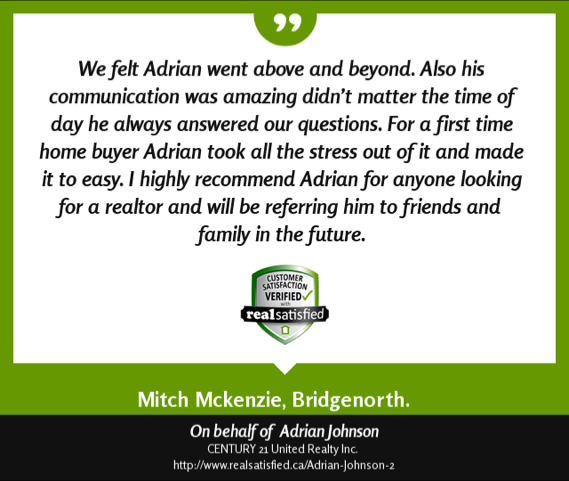 Mitch Mckenzie, Bridgenorth.
We felt Adrian went above and beyond. Also his communication was amazing didn't matter the time of day he always answered our questions. For a first time home buyer Adrian took all the stress out of it and made it to easy. I highly recommend Adrian for anyone looking for a realtor and will be referring him to friends and family in the future.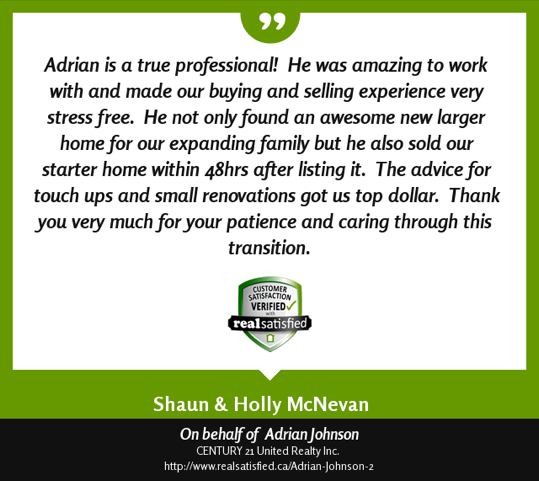 Shaun & Holly McNevan
Adrian is a true professional! He was amazing to work with and made our buying and selling experience very stress free. He not only found an awesome new larger home for our expanding family but he also sold our starter home within 48hrs after listing it. The advice for touch ups and small renovations got us top dollar. Thank you very much for your patience and caring through this transition.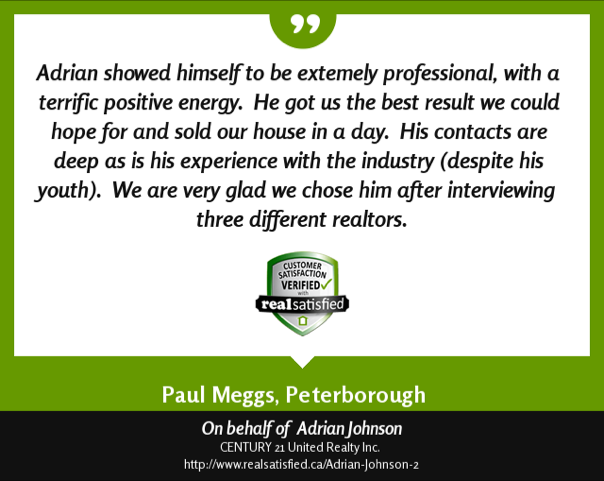 Paul Meggs, Peterborough
Adrian showed himself to be extemely professional, with a terrific positive energy. He got us the best result we could hope for and sold our house in a day. His contacts are deep as is his experience with the industry (despite his youth). We are very glad we chose him after interviewing three different realtors.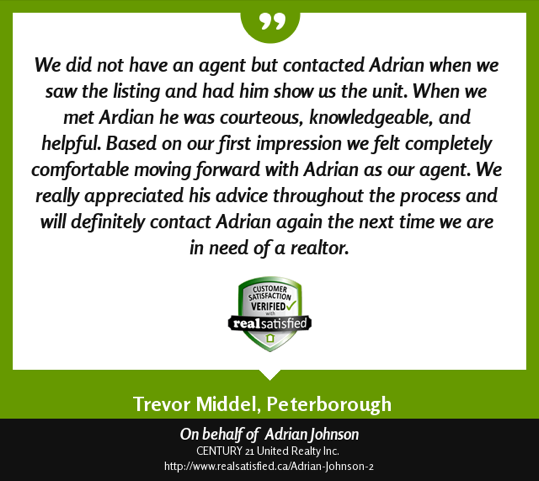 Trevor Middel, Peterborough
We did not have an agent but contacted Adrian when we saw the listing and had him show us the unit. When we met Ardian he was courteous, knowledgeable, and helpful. Based on our first impression we felt completely comfortable moving forward with Adrian as our agent. We really appreciated his advice throughout the process and will definitely contact Adrian again the next time we are in need of a realtor.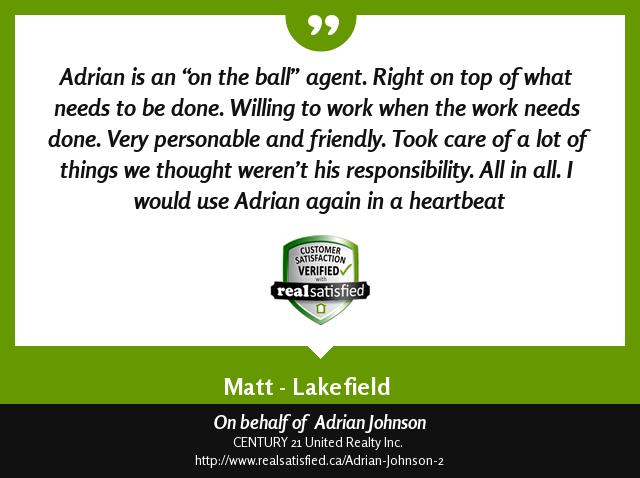 Matt - Lakefield
Adrian is an "on the ball" agent. Right on top of what needs to be done. Willing to work when the work needs done. Very personable and friendly. Took care of a lot of things we thought weren't his responsibility. All in all. I would use Adrian again in a heartbeat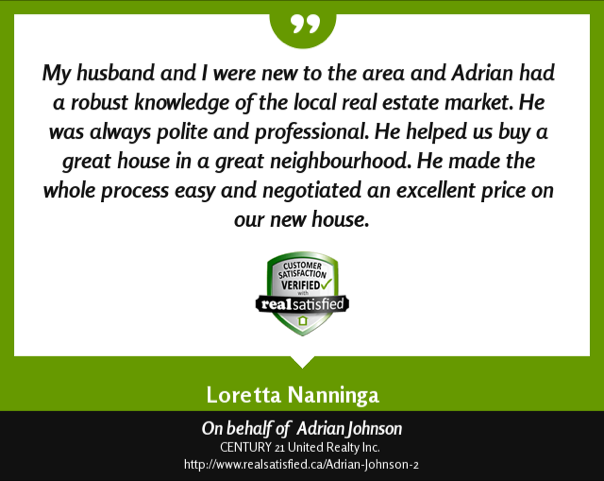 Loretta Nanninga
My husband and I were new to the area and Adrian had a robust knowledge of the local real estate market. He was always polite and professional. He helped us buy a great house in a great neighbourhood. He made the whole process easy and negotiated an excellent price on our new house.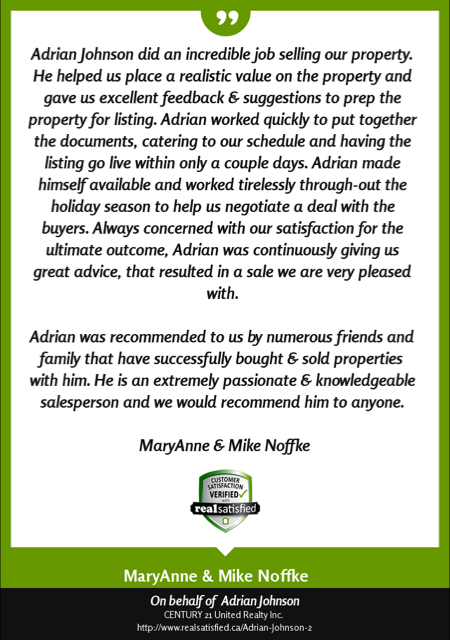 MaryAnne & Mike Noffke
Adrian Johnson did an incredible job selling our property. He helped us place a realistic value on the property and gave us excellent feedback & suggestions to prep the property for listing. Adrian worked quickly to put together the documents, catering to our schedule and having the listing go live within only a couple days. Adrian made himself available and worked tirelessly through-out the holiday season to help us negotiate a deal with the buyers. Always concerned with our satisfaction for the ultimate outcome, Adrian was continuously giving us great advice, that resulted in a sale we are very pleased with. Adrian was recommended to us by numerous friends and family that have successfully bought & sold properties with him. He is an extremely passionate & knowledgeable salesperson and we would recommend him to anyone.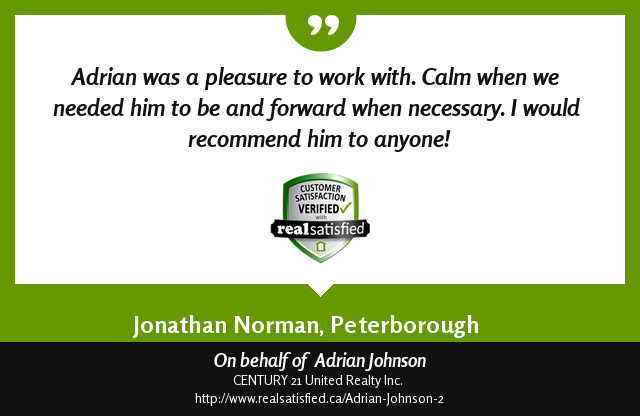 Jonathan Norman, Peterborough
Adrian was a pleasure to work with. Calm when we needed him to be and forward when necessary. I would recommend him to anyone!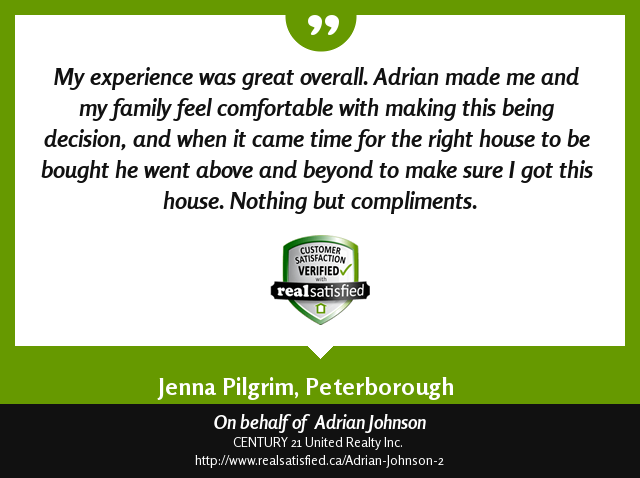 Jenna Pilgrim, Peterborough
My experience was great overall. Adrian made me and my family feel comfortable with making this being decision, and when it came time for the right house to be bought he went above and beyond to make sure I got this house. Nothing but compliments.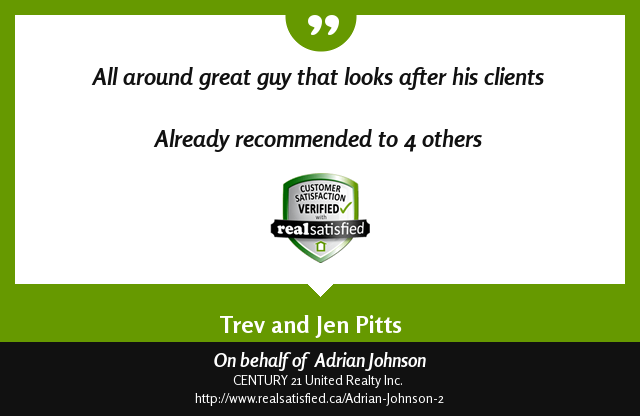 Trev and Jen Pitts
All around great guy that looks after his clients. Already recommended to 4 others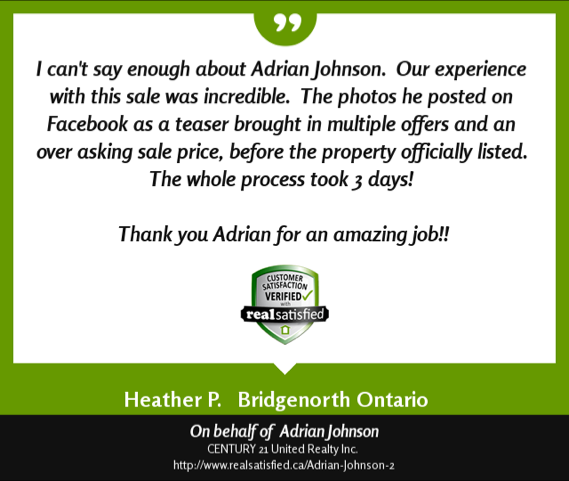 Heather P. Bridgenorth Ontario
I can't say enough about Adrian Johnson. Our experience with this sale was incredible. The photos he posted on Facebook as a teaser brought in multiple offers and an over asking sale price, before the property officially listed. The whole process took 3 days! Thank you Adrian for an amazing job!!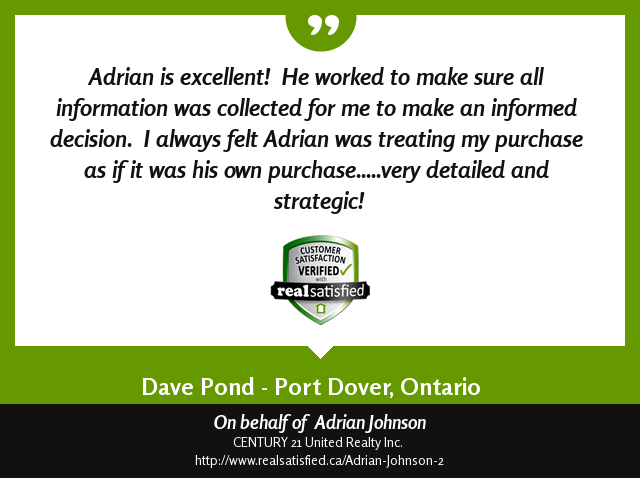 Dave Pond - Port Dover, Ontario
Adrian is excellent! He worked to make sure all information was collected for me to make an informed decision. I always felt Adrian was treating my purchase as if it was his own purchase.....very detailed and strategic!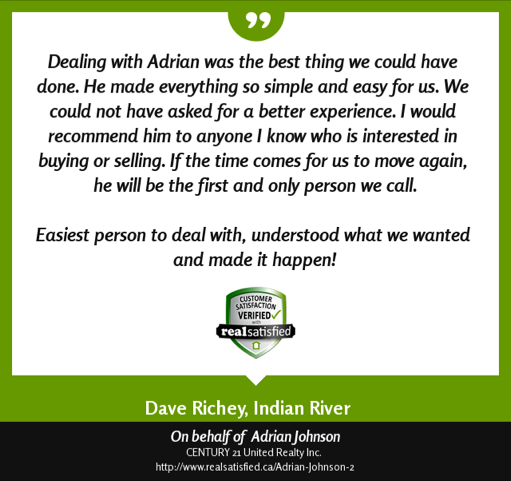 Dave Richey, Indian River
Dealing with Adrian was the best thing we could have done. He made everything so simple and easy for us. We could not have asked for a better experience. I would recommend him to anyone I know who is interested in buying or selling. If the time comes for us to move again, he will be the first and only person we call. Easiest person to deal with, understood what we wanted and made it happen!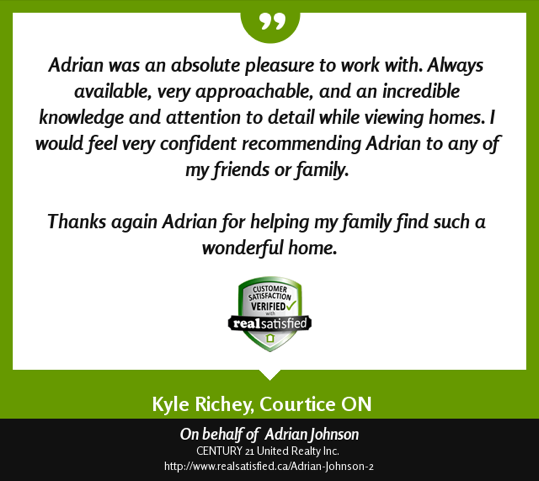 Kyle Richey, Courtice ON
Adrian was an absolute pleasure to work with. Always available, very approachable, and an incredible knowledge and attention to detail while viewing homes. I would feel very confident recommending Adrian to any of my friends or family. Thanks again Adrian for helping my family find such a wonderful home.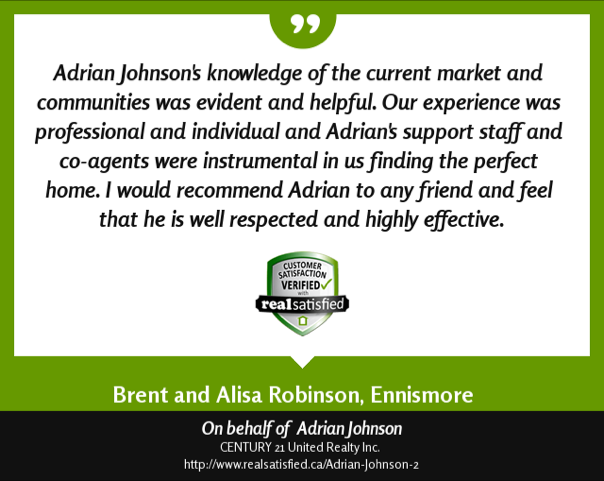 Brent and Alisa Robinson, Ennismore
Adrian Johnson's knowledge of the current market and communities was evident and helpful. Our experience was professional and individual and Adrian's support staff and co-agents were instrumental in us finding the perfect home. I would recommend Adrian to any friend and feel that he is well respected and highly effective.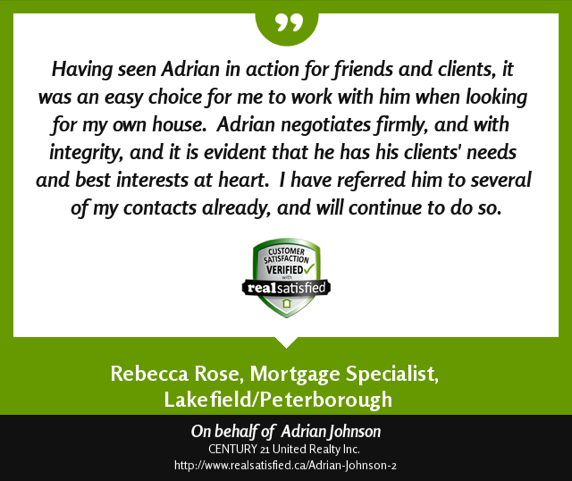 Rebecca Rose, Mortgage Specialist, Lakefield/Peterborough
Having seen Adrian in action for friends and clients, it was an easy choice for me to work with him when looking for my own house. Adrian negotiates firmly, and with integrity, and it is evident that he has his clients' needs and best interests at heart. I have referred him to several of my contacts already, and will continue to do so.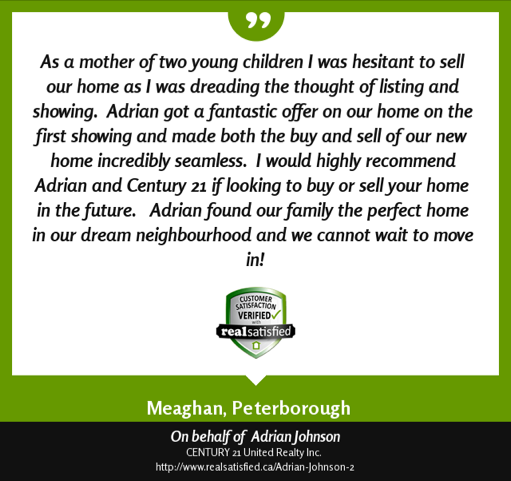 Meaghan, Peterborough
As a mother of two young children I was hesitant to sell our home as I was dreading the thought of listing and showing. Adrian got a fantastic offer on our home on the first showing and made both the buy and sell of our new home incredibly seamless. I would highly recommend Adrian and Century 21 if looking to buy or sell your home in the future. Adrian found our family the perfect home in our dream neighbourhood and we cannot wait to move in!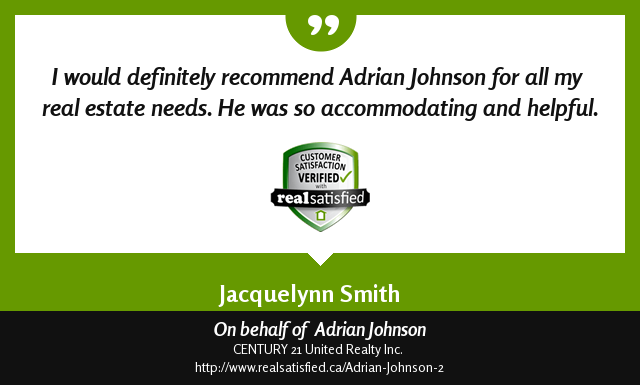 Jacquelynn Smith
I would definitely recommend Adrian Johnson for all my real estate needs. He was so accommodating and helpful.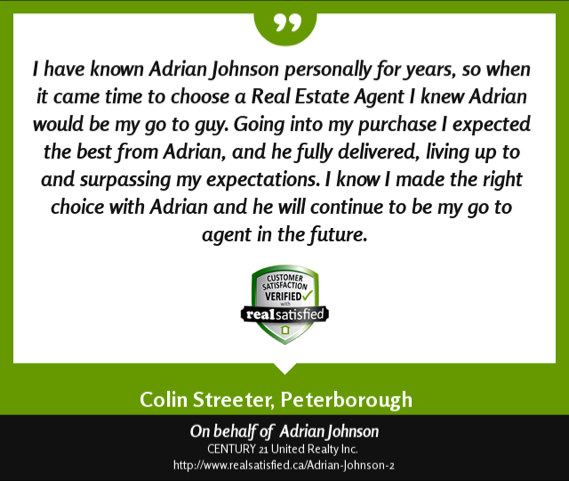 Colin Streeter, Peterborough
I have known Adrian Johnson personally for years, so when it came time to choose a Real Estate Agent I knew Adrian would be my go to guy. Going into my purchase I expected the best from Adrian, and he fully delivered, living up to and surpassing my expectations. I know I made the right choice with Adrian and he will continue to be my go to agent in the future.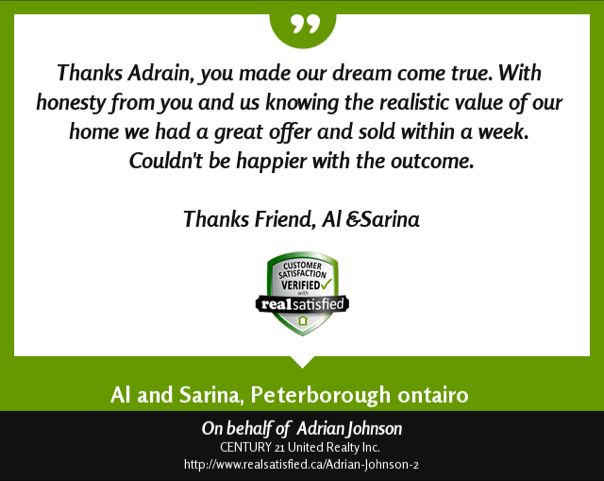 Al and Sarina, Peterborough ontairo
Thanks Adrain, you made our dream come true. With honesty from you and us knowing the realistic value of our home we had a great offer and sold within a week. Couldn't be happier with the outcome. Thanks Friend, Al & Sarina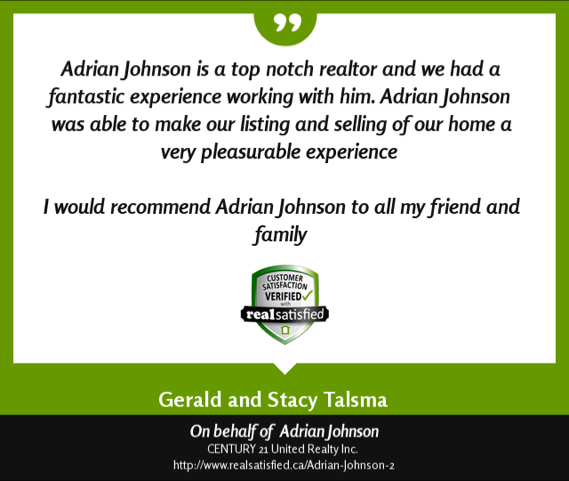 Gerald and Stacy Talsma
Adrian Johnson is a top notch realtor and we had a fantastic experience working with him. Adrian Johnson was able to make our listing and selling of our home a very pleasurable experience I would recommend Adrian Johnson to all my friend and family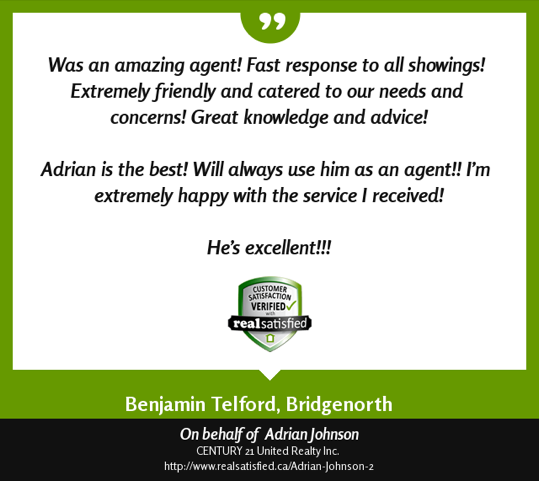 Benjamin Telford, Bridgenorth
Was an amazing agent! Fast response to all showings! Extremely friendly and catered to our needs and concerns! Great knowledge and advice! Adrian is the best! Will always use him as an agent!! I'm extremely happy with the service I received! He's excellent!!!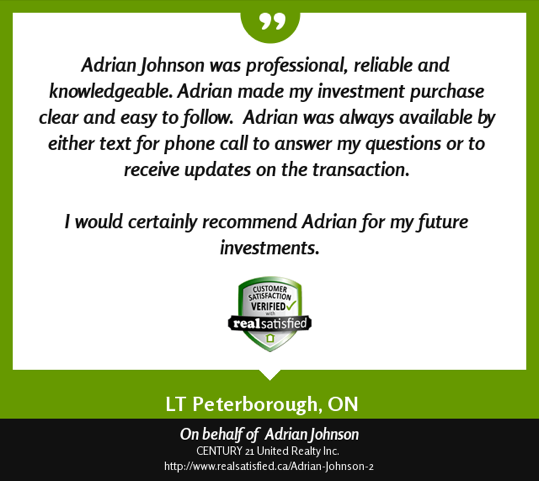 LT Peterborough, ON
Adrian Johnson was professional, reliable and knowledgeable. Adrian made my investment purchase clear and easy to follow. Adrian was always available by either text for phone call to answer my questions or to receive updates on the transaction. I would certainly recommend Adrian for my future investments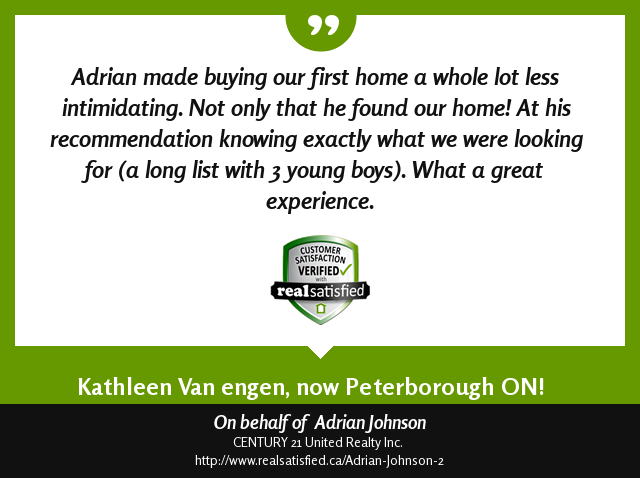 Kathleen Van engen, now Peterborough ON!
Adrian made buying our first home a whole lot less intimidating. Not only that he found our home! At his recommendation knowing exactly what we were looking for (a long list with 3 young boys). What a great experience.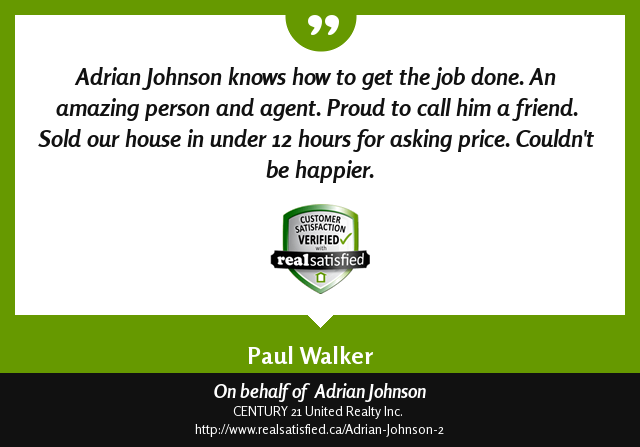 Paul Walker
Adrian Johnson knows how to get the job done. An amazing person and agent. Proud to call him a friend. Sold our house in under 12 hours for asking price. Couldn't be happier.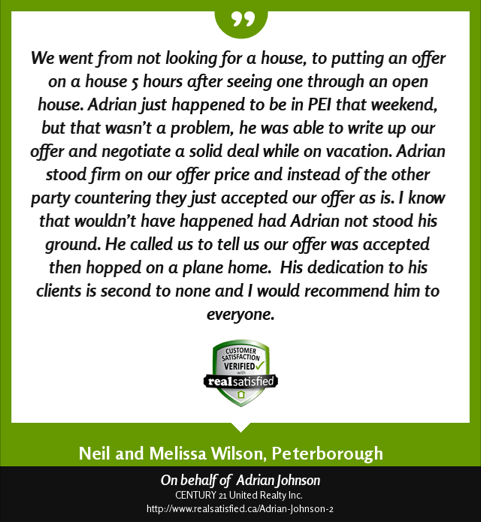 Neil and Melissa Wilson, Peterborough
We went from not looking for a house, to putting an offer on a house 5 hours after seeing one through an open house. Adrian just happened to be in PEI that weekend, but that wasn't a problem, he was able to write up our offer and negotiate a solid deal while on vacation. Adrian stood firm on our offer price and instead of the other party countering they just accepted our offer as is. I know that wouldn't have happened had Adrian not stood his ground. He called us to tell us our offer was accepted then hopped on a plane home. His dedication to his clients is second to none and I would recommend him to everyone.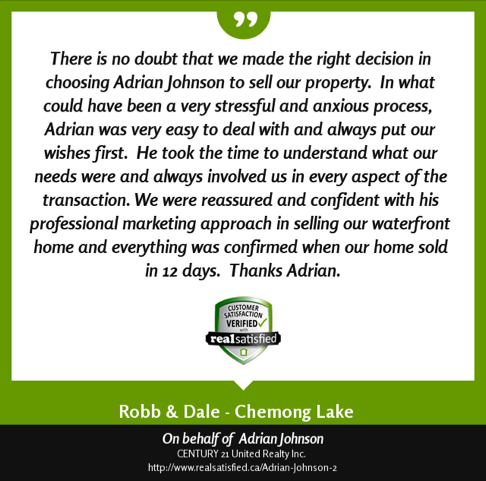 Robb & Dale - Chemong Lake
There is no doubt that we made the right decision in choosing Adrian Johnson to sell our property. In what could have been a very stressful and anxious process, Adrian was very easy to deal with and always put our wishes first. He took the time to understand what our needs were and always involved us in every aspect of the transaction. We were reassured and confident with his professional marketing approach in selling our waterfront home and everything was confirmed when our home sold in 12 days. Thanks Adrian.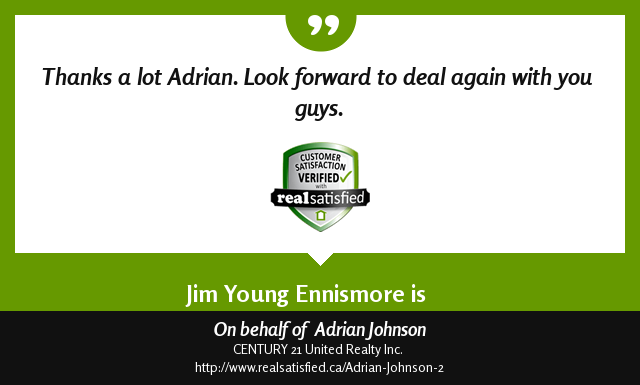 Jim Young Ennismore is
Thanks a lot Adrian. Look forward to deal again with you guys.